Brampton Kitchen Refacing
"Mike and his team did an amazing laundry room renovation at my house. Very professional and I loved the result. Highly recommend. Thanks Mike!"
Emilie Archer
Oakville, Ontario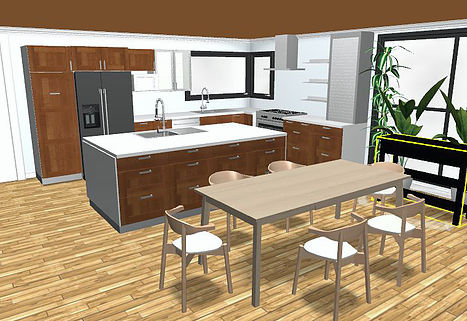 Blue: Brampton's Premier Kitchen Cabinet Refacing
Our Kitchen cabinet refacing service in Oakville offers cabinet doors manufactured to be high end solutions for your kitchens, bathrooms and closets with hundreds of styles available. We have the best lead times in the industry and a commited service team to help simplify any project. Blue has proudly served Oakville and the GTA for over Decade.
Servicing
Brampton

and the GTA for 18 Years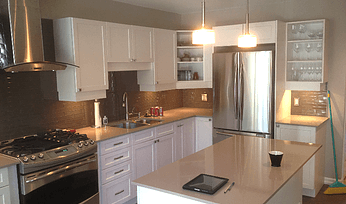 A beautiful picture of a kitchen using our cabinet doors for Jully L located in the beautifull Lakeshore near Bronte area of Oakville, this kitchen was faced with our kitchen cabinet doors and put on Ikea boxes producing a premium kitchen for less (see our Ikea kitchen Installation page).
Brampton's

Best Dovetails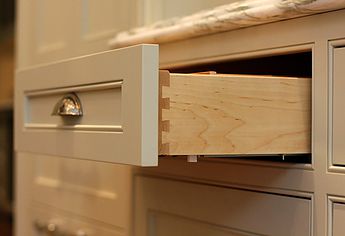 Craftsmanship Matters
At Blue our solid dovetail drawers are built to match old wolrd standards, giving any kitchen an ultra premium look and feel with an elegance that can never be matched with todays plastic laminate drawers.
Serving
Brampton
An impressive community within the Greater Toronto Area (GTA), the Town of Oakville is a beautiful lakeside town with a strong heritage. Founded in 1857, this striking town has become one of the most coveted residential and business centres in Ontario, Oakville has all the intangables:
Oakvile has Great neighbourhoods
Great places to do business in Oakville
Quality schools all round
A full-service community hospital
Proximity to Lake Ontario and community recreational areas
Easy access to all major highways via QEW, 403, 407 and GO Transit
Fantastic shopping districts in the downtown core
kitchen cabinet refacing Oakville
Ikea kitchen Installers Oakville
Kitchen Cabinet Doors Oakville…Lol
A 30-minute drive from downtown Toronto, and an hour's drive from the U.S. border, Oakville is a great destination for visitors. Oakville residents and visitors enjoy theatre, dance, music and comedy performances at the Oakville Centre for the Performing Arts. They can visit an Oakville Museum at Erchless Estate, at the home of the Chisolms, Oakville has founding family. Other points of interest include galleries, historical societies and local architecture, especially in heritage neighbourhoods. Oakville is also home to Sixteen Mile Sports Complex and the new Queen Elizabeth Park Community. Oakville's special attractions and activities for the whole family, Oakville's annual RibFest and Jazz Festival draw crowds from around the GTA. The community also provides plenty of recreational services. Golfers can play at Oakville golf courses, including PGA's Glen Abbey, which has hosted the Canadian Open in Oakville for several years. Tons of parks, many with great hiking trails, join a recreational centre which provides social programs for all. For boaters, Oakville features two beautiful harbours with docks and slips for sail and powerboats.