T
h

e Kitchen Refacing Process

And Your Other Kitchen Options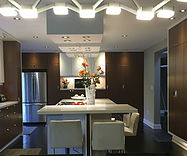 From exhaust fans, backsplashes, gas and plumbing hook ups to solid wood dovetail drawers we handle all of the extras.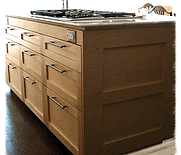 Choose from our selection of quartz countertops, Quartz is the popular choice due to increased strength and look.
Step One:

Choose A Style Of Door

This is our most popular line of cabinet doors. Our cabinet doors are assembled from five individually machined components including a solid wood center panel.
We manufacture our center panels in a house with careful attention to grain direction, grain character, and color match. Although we showcase many of our cabinet doors in Maple all of these door styles are available in any species of wood. If there is a style that you've set your mind on, we'll make it. Our solid slab wood veneer cabinet doors are made from the highest quality and it shows.
S
o

lid Slab, Real Wood Veneer Cabinet Doors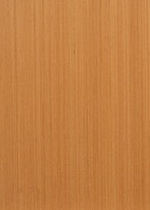 Coastal Fir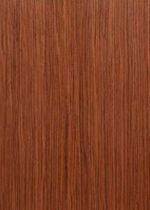 Brazilian Cherry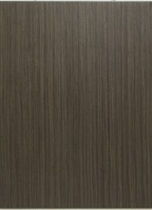 Charcoal Ash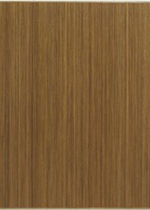 Rift Walnut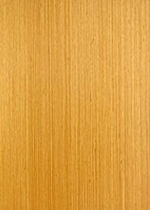 Quartered Teak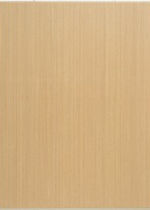 White Oak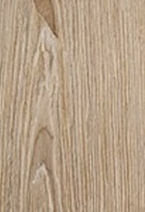 Driftwood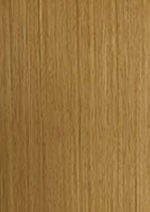 European Oak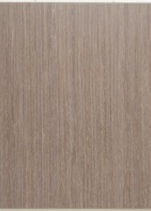 Frosted Oak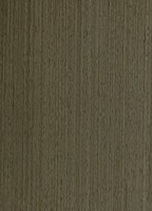 Platinum Wenge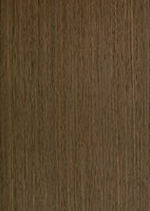 Claro Walnut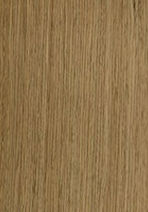 Quartered Walnut
OR
Wood

and

MDF

Cabinet Doors

Available In Any Wood Species Or MDF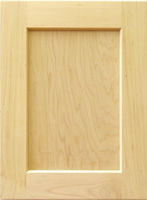 Henegan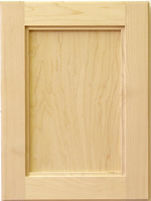 Cordoba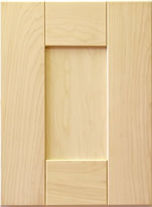 Sarmento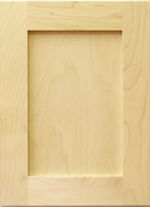 Lancaster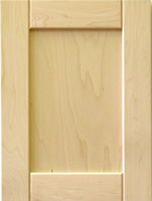 Adam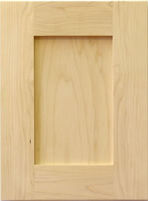 Glencairn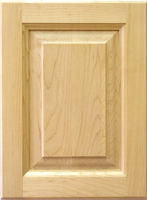 Tait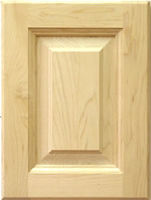 Duquette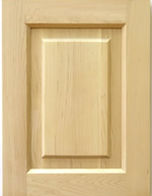 Shubert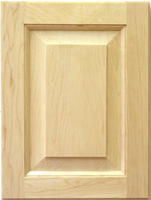 Tasker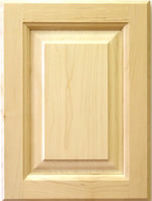 Tait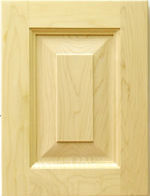 Powell
Step Two:

Choose a Paint or Stain Colour

When painted doors are used in kitchen cabinet refacing your available selection of colours is as limitless as your imagination, with every colour being available to you .Through the
years we've grown to love the tremendous selection and style of Benjamin Moore colours and can refer you to there Colour Gallery to help aid in your selection of a colour. We've
found that clients prefer to drop into one of the many Benjamin Moore Locations to see the
colours in person, of course, we'll have a colour swatch booklet with us for
your consultation as well.
Stain Colours
Of Course, We Also Do Custom
Available In
White, Oak, Ash, Hickory, Red Oak, Maple, Walnut, Cherry
Our D

o

ors For Ikea Cabinets
"As a General Contractor for over 15 years, I had installed kitchen cabinets from all of the major brands. During an Ikea kitchen installation, I started to notice that most companies box frames were manufactured the same as IKEA kitchen cabinets, with only the doors and facing being of a higher quality. I decided to purchase high-end custom doors and facing and mount them on IKEA Secktion boxes because if their affordability and the result was significant. I could give my clients high-end cabinetry for approximately 35% less. Even more so, I could reface older cabinetry for those with a lesser budget to a premium quality. All this with an endless choice door styles. Today our Ikea kitchen installers do about 10 Ikea kitchens a month and I can't say enough about the quality of the new Ikea system. "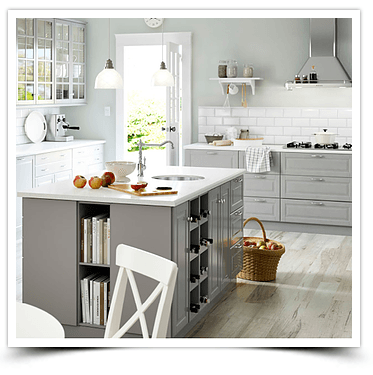 Everything To Do With Kitchen Refacing installation, installers and design ideas
Craftsmanship
It's common in the kitchen refacing industry for manufacturers to purchase center panel blanks but all of our center panels are made from the same lumber as the Stiles and Rails. The center panels are designed to float in the stiles and rails. The solid center panels can shrink and swell with extreme changes in temperature or humidity. Our cabinet doors panel is suspended using multiple pieces of secret foam fillers to ensure a swelling panel does not force the stiles and rails to separate at the joints.
Our doors are clamped under high pressure in specially designed pneumatic clamps. The clamps ensure the doors are perfectly square and the joints are tight. We use a super high-quality glue that is imported from Europe. This system, along with extremely high tolerance joinery lets us make a door that contains no metal. No pins, no brads, no nails, no staples. We make doors right and we guarantee them.
Cabinet doors are assembled from five individually machined components including a solid wood center panel. We manufacture our center panels in house, with careful attention to grain direction, grain character, and color match. Although we showcase many of our doors in Maple all of these door styles are available in any species of wood.

Ikea Kitchen Design With Custom Doors
With the Ikea kitchen design service, you have a whole new world to your kitchen design. It is a revolutionary concept where you design all the components of your kitchen according to the space you have available then let Ikea manufacture all the components for you. Yours then is simply to assemble everything together and have your dream kitchen. While using Ikea kitchens, you will have to make some decisions concerning style and functionality. One such choice you won't avoid is the type and style of doors of cabinets to use. Fortunately, Ikea provides you with a rich variety of door styles and door types guaranteed to meet the tastes and preferences of each client. However, if you find that your type of door is not included, you have the freedom to customize the kind of door you want and Ikea Kitchens will be glad to manufacture it. With regards to using different doors for Ikea cabinets, the options are simply huge for you. They include but are not limited to the following:
French Country cabinet doors: Ikea kitchens designed in the French country style are rich and bright with colors such as pink, gold, olive and deep red. Others may exude beautiful natural colors like natural granite or neutral. You can find these types of doors, with a myriad of variations for your Ikea kitchen cabinets.
Cottage Cabinet Doors: If you prefer the less formal look for your Ikea kitchen, you will be pleased to learn about the wide range of cottage style cabinet doors available to you. Whether you prefer smooth, wood stain or textured paints, you are guaranteed to find a wide variety from Ikea.
Contemporary Italian: Italian designs have always been a darling of many people. It's not just in fashion but also in furniture where they have made a mark for having some of the top notch designs in the world. For Ikea Kitchen cabinet doors, you can find a variety of contemporary Italian styles which will accentuate virtually any of kind of décor you have in your kitchen. With the contemporary Italian cabinet doors, it's not just about the style, but also, they are functionally safe and sound.
Happy Modern Style: Perhaps the sunny look of the happy modern kitchen is what you desire for you Ikea kitchen cabinet doors. These feature light cabinetry with quality open shelving to give you additional room for storage. You will be delighted with the superfluity of the Happy Modern style cabinet doors available at Ikea.
Contemporary Scandinavian Styles: The contemporary Scandinavian styles will never fail to feature whenever you are considering furniture styles. This is usually the case for people who love natural, minimal chic looks in their designs. With the Ikea kitchen cabinets, you find a wide variety of the contemporary Scandinavian styled doors to complement your entire design. It will interest you to know that with the solutions offered by Ikea Kitchen, it is not just the kitchen doors that can feature these styles. As a matter of fact, you will get great results if you settle on one theme for you Ikea kitchen. However, with the ease of customization of the kitchen design, you are still free to feature different themes for the overall kitchen design and the design of the cabinetry.